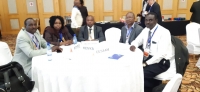 EASTERN AND SOUTHERN AFRICA HIGHER EDUCATION CENTERS OF EXCELLENCE (ACEII) TECHNICAL AND ADVISORY MEETING (NOVEMBER 18-19, 2019) LILONGWE, REPUBLIC OF MALAWI
Objectives:
The Technical and Advisory Meeting is an opportunity to brainstorm on common challenges faced by the ACEs to improve the quality of their programs.
The primary focus will be on the outcomes of the Mid-Term Review reports. In particular the meeting will reflect on the key findings and challenges faced with respect to
(i)               progress made in the implementation of the projects
(ii)              areas for further improvement of the project, going forward.
Participants include:  Regional Steering Committee; Vice Chancellors;  The Executive Secretary – IUCEA; ACE II Center Leaders;  ACE II Deputy Center Leaders;  IUCEA/RFU Staff; World Bank team; Consultants; and Senior Government Officials.